Palazzo Strozzi | Opal 10L
Florence, Italy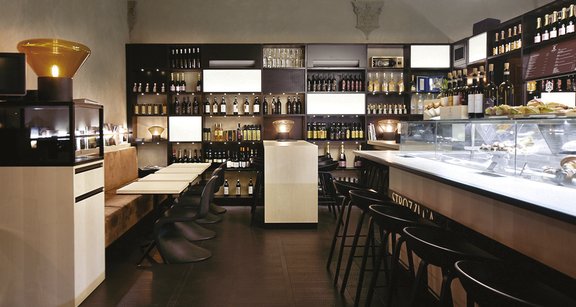 Folio Opal 10L
Architect: Rosso 19
Located in the historical center of Florence, in the inner courtyard of Palazzo Strozzi, the cafe by the same name is a meeting place amongst renaissance art and contemporary furnishings. The Folio Opal 10L light, direct and homogenous, focuses ones attention to the items displayed on the shelves, creating an impressive setting that blends with the aesthetics of the cafe furnishings.
The Folio Opal 10L luminous elements are mounted by a magnetic fixing system that ensure effortless mounting, as well as, stability with absolute safety in a public environment. The RGBW LEDs technology, within the Folio Opal 10L, combines different diodes tonalities in order to regulate the colours with natural transition and creates different atmospheres according to the context, while maintaining the brightness and color rendering.
Intensity, color and shades are regulated by a wireless remote control. In addition to the general illumination of the room, the Folio Opal 10L enhances pure white and emphasis the display wall.