BBVA Banco Bilbao Vizcaya Argentaria | Rigo Line
Almeria, Spain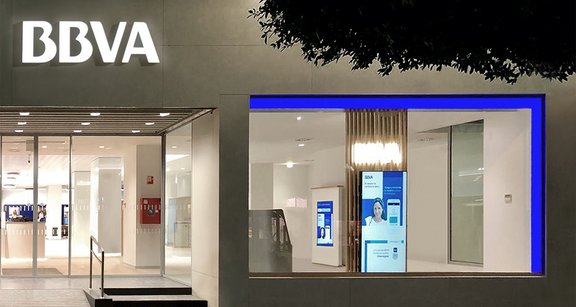 Folio Rigo Line
 
Folio assisted the Spanish multinational banking group in their new branding process.
This is seen by the lighting of entryways and shop windows. The process to update the corporate identity started from the logo, to the services and products offered, followed by the transformation of their buildings and offices.
The high degree of customisation of Folio products allowed the production of iconic lighting fixtures for the brand. The opal diffuser enhances the identifying colour of the brand through the intensity and light homogeneity of Folio Rigo Line, making BBVA locations immediately recognisable. The special modular fixing system, designed with specific application needs, confirms the "custom-made" feature of Folio Rigo Line installation without any visible jointing elements.